Description
Pictures
Testimonials
Pivoting Davit System (6000) For Inflatable Boats - Manual or Quick Release
Designed to carry inflatable dinghy on swim platform of boat
This davit is the highest quality, easiest to install, simplest to use davit system on the market. The manual release means you have a bolt and nut that connects the "c-rings" component to the base unit that is mounted to your swim platform and the quick release means you have a quick pull-pin. Either of these two options allow you to clear the davits from your swim platform for swimmers or when you are not using the dinghy the davits can be easily stored. It does require tools to remove the manual release as it uses nuts and bolts.
"A davit with no expensive gluing of parts on your dinghy, no hassles, no worries....just go boating!"
No gluing of fittings on inflatable.
Stainless steel retainers "cradle" inflatables securely in place.
Choose the manual release (bolts) or quick release (pull-pins) version.
Easy installation and use.
Easily removed in a couple of minutes if required, and even quicker if you choose the quick release option.
Constructed of marine grade stainless steel and electropolished for extra protection.
Stainless steel mounting hardware included.
Dinghy may be pulled tightly against transom of larger vessel and lifting lines used to secure dinghy to cleats of vessel.

Comes with added backing plates

at no extra charge.
Recommend "holding lines" to secure boat to larger vessel as shown in drawing.
Maximum weight 300 lb.
Support pads, 3" wide by 12" long are welded to bottom section of retainers for extra support for inflatable.
Choose between 2 sizes: 16 inch or 17 inch tubeset diameters.
Retainers will accommodate inflatable tubes up to 17" diameter.
Shipping weight 8 lb. 3 oz.
Works great with the Pivoting Motor Mount Bracket.

Optional davit mount extensions

also available.
Or consider our Complete Pivoting Davit System - includes the pivoting davit, pivoting motor mount and stand-off bars in a complete package.

Optional stand-off bars

are recommended to keep dinghy in upright position on swim step.
See the Related Products tab below for extensions, stand-off bars, and more.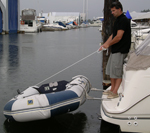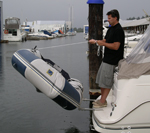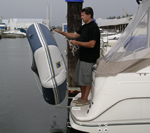 Quick release with pull-pins shown above.
Need More Room On Your Swim Platform?
Need extensions to push your Pivoting Davit System farther outboard aft to give you more room on your swim platform? 18" Davit Mount Extensions offer you another 12" of room and are also convenient if you need to install the davit system on a swim platform with obstructions, ladders, hardware and other items that may be in the way of installation and use.

Quick release davit system showing the pull pins that mount the c-rings to the base mounting units. This allows you to quickly clear the davits from your swim platform for swimmers or when you are not using the dinghy the davits can be easily stored. The manual release system uses nuts and bolts where the pull-pins would be.

Pivot davit allows for great flexibility.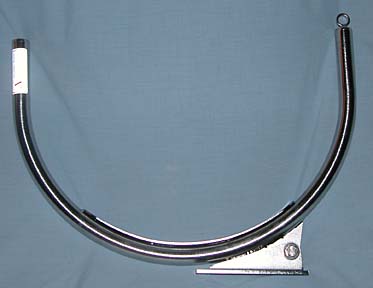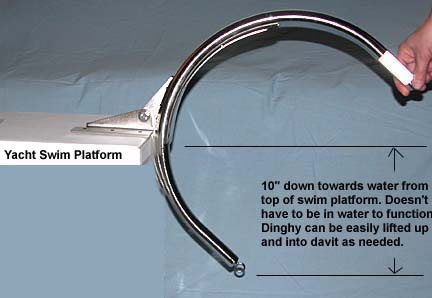 Davit pivots down deep towards or into the water for ease of use - subject to height above water of swim platform.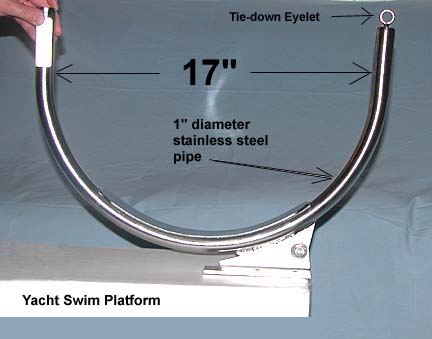 Large 17" diameter accommodates most inflatable dinghy yacht tender sizes.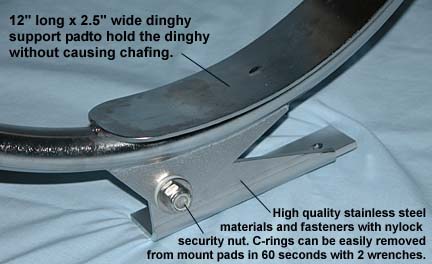 All stainless steel high quality construction.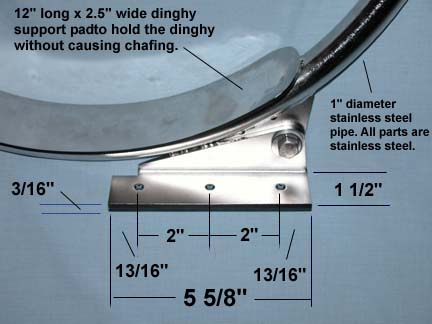 "The "kiss" approach to dingy mounting. "keep it simple stupid"....which is what you offer with the 6000 system."
David Eastwood, TWO SEAS, 32' Island Gypsy.
"I would be more than happy to tell you and others how pleased I am with your davit system. I searched the web and looked at a few systems but none can compare to yours. The picture you see here is of my boat on the St Lawrence River this past summer. While we were up there we stopped at a place called Bold Castle. We were just getting ready to leave when a fellow boater notice my dinghy and it's davit support. I had him come onboard and even try it for himself. He was very impressed with it and to the point where he wanted to give me his phone number so that when I got home I could call him with your website. Lucky for him I keep all my paper work for the boat on the boat. I was able to give him all the information he needed to contact you. I can only believe he did along with a few of his boating pals. I will be contacting you because I need to purchase the standoffs for the dinghy. You really need to advertise more on the East Coast. I think your Davit System would be a big seller here. It's only a matter of time until I move up to a larger boat and I will be in need of another one of your davits. I'll be sure to call."
Thanks again Paul A. Batz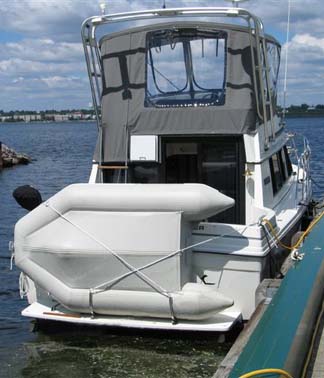 Featured Products
Was:
$995.00 - $1,195.00
Now:
$895.00 - $1,095.00
Was:
$899.00 - $1,199.00
Now:
$799.00 - $1,099.00
Specials