Description
Photos
Usage Info
Dinghy Sling Davit System and Cargo Net
For Storing Inflatable Boats, Inflatable RIBs, Hard Shell Dinghies, Kayaks, Canoes, ski tube towables, and more on Powerboats and Sailboats, and cargo too!
This is the simplest, most universal, and most cost effective dinghy davit system on the market. If you need a basic and flexible dinghy davit system and don't want to invest in a more permanent and sophisticated system - this is the answer for you! See "Photos" tab above for many customer photos and testimonials.
Free Shipping in USA.
(Shipping is often done every day so your order will ship the next day latest after purchase confirmation and use USPS, FEDEX or UPS depending on your location for fastest shipping time.)
This the simplest, most universal, and most cost effective davit system on the market. If you need a basic and flexible davit system and don't want to invest in a more permanent and sophisticated system - this is the answer for you!
Now you can take inflatable boats, inflatable Rib, row boat, canoe, kayaks, ski tube towables on your cruise securely without spending several hundreds or even thousands of dollars on a davit system - and you won't lose precious swim platform, deck or bow space. Unlike most other davit systems, with the Dinghy Sling you don't have to glue parts on your dinghy, and in this case you won't have to drill holes in your vessel either. Comes with a FREE backpack storage bag for convenient and tidy storage when not in use.

The dinghy sling davit system floats behind your boat ready to accept your dinghy, which is then cradled by the sling. The dinghy is then lifted up to desired height on your transom or on the swim platform and pivoted to any angle you choose utilizing adjustable straps and specially made loop straps which connect to cleats, railings or stanchions on your larger vessel. Once snug, the dinghy will not move or bounce around even in rough seas. See the benefits below:
See more pictures on the "Photos" tab above.
Benefits of the Dinghy Sling System:
Enhanced design for even stronger support and new black color to hide dirt.
360 degree integrated floatations and long straps for larger vessels to allow the sling to help keep it's shape during deployment, resist floating under your vessel, and ability to use on wider beams where cleats or rails are not close to Dinghy.

Strong, Portable, Lightweight, UV resistant with all marine grade materials.

Easy lifting and lowering with quick deployment for emergency situations.

Can be stored straight up or at any angle you choose so as not to block view.

Can prevent man overboard situations where the dinghy could catch you.

Works on Sailboats / Power boats with or without a swim platform and even sides of docks to keep walkway clear.

Will carry Kayaks, Row boats and Inflatable's even with small outboard motors.

No Drilling, Bolting, Gluing or modifications to your boats. No more cracks in fiberglass!

Keeps your tender out of water to prevent algae growth and drag on vessel.

Helps in maneuvering in tight harbors where towing would not be possible.

Helps reduce chance of theft of dinghy or kayak while up in sling.

Testing has shown reduced engine exhaust noise on deck and keeps you drier from splashing in following seas since inflatable rests against transom.

Easily operated with only 1 person. Feel secure knowing your dinghy is right behind you ready to deploy in a moments notice.
Comes with a FREE handy storage bag for tidy storage of sling when not in use.
Fits perfect on Cruisers, Back Cove, Searay, Formula, trawlers, catamaran and many other power boats and sailboats with inboard or inboard / outboard engines.
Specifications and Details:
6' wide x 7' long sling system.
Rated for dinghies up to 175 lbs.
Want to leave your engine on your dinghy? See information below.
High strength, stiff webbing material made specifically for our product.
Sling davit connects to your larger vessel using long support straps and quick snap buckles.
Will fit most dinghies and attached to most larger vessels - powerboats, sailboats, etc.boats.
Can be machine washed and stores in a sling pack when not used.
Can be returned in unused condition within 15 days.
5 year warranty for replacement or repair.
Installation and Use
Read installation and usage information on the USAGE INFO tab above.
Can I Leave My Engine on my Dinghy when using the Dinghy Sing?
It is feasible to leave your outboard motor on the dinghy when using the Dinghy Sling, however this is your choice based on several factors such as:
Total weight of dinghy, small engine, gas tank, etc, cannot exceed sling maximum weight rating of 175 lbs.
We recommend only 2 stroke engines under 8 HP, and not 4 stroke engines unless you plan to leave the dinghy in the horizontal or flat position. When 4 stroke engines are tilted sideways, they can allow gas to run into the crankcase, which is bad for the engine.
We recommend removing the fuel tank unless you plan to leave the dinghy slung in the horizontal position.
Will the dinghy will be tilted up in a vertical position and create instability of the engine, especially in rough water, leading to it falling off and being damaged or lost.
We suggest you consider all of these closely before deciding whether to leave your engine on when using the Dinghy Sling.

Do not use with other gear or seating in dinghy that exceeds sling maximum weight rating, or is loose and could fall out.
*Picture at top: Dinghy sling system attached to 26' power boat with a half swim platform holding a 9' inflatable boat. Boat was carried at speeds over 40 knots and has been through 4' waves.... with no problems!
OUR CUSTOMERS LOVE THE VERSATILITY OF THIS PRODUCT
Below are several pictures showing actual use of the Dinghy Sling on a variety of customer's boats.
Here's a picture of the Sling, as used in my 35' Tiara Sovran. It was taken in Taboga, one of the islands in the Bay of Panama. Here are photos of the Dinghy Sling attached with us making our way across the islands in the Panama Bay. Launching the dinghy is very easy. To bring it back on the boat, however, we found that the wide swimming platform resulted in little leverage being available to "sling" the dinghy out the water. As a result, we simply pulled it out by hand and set it on the platform, nested on the cradle formed by sling. We then hooked one of the long straps to the port cleat on the gunwale, and the other on the starboard handle of the trunk .The whole thing took about seven or eight minutes. Under way, the system worked perfectly, even at WOT. All in all, a great solution. Much simpler and lighter than any of the alternatives. Cheers, Jaime Rivera
---

Tina, Thank you for the e-mail. The sling davit arrived quickly and is very nice. I will try to carry my 10 ft APEX hard bottom dingy on the stern of my 1986 Island Packet 31 sailboat in October. I think that it will work well and hopefully is easier to use than lifting the dingy with a spare halyard onto the foredeck and flipping it over and lashing it down. Thank you for your prompt shipping of the product. I am looking forward to using it. Bill Speck
---

The product I ordered was exactly what I wanted. Turnaround time was spot on! I have allboatproducts on my favorite list. Have a great day. Jon Gooding

---

Mainship 30 with dinghy sling holding dinghy upright and secure.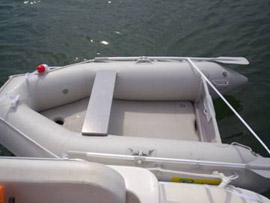 Dinghy rowed or motored over and secured onto sling and vessel using supplied straps.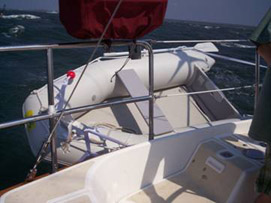 This inflatable boat is stable and secure... even in these 10' seas!

Special adjustable straps (supplied with sling) make it easy to lift your dinghy.

Rear view of Dinghy Sling system. Can be deployed in 30 sec.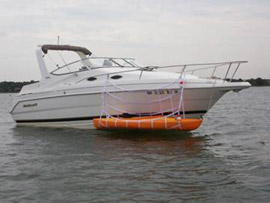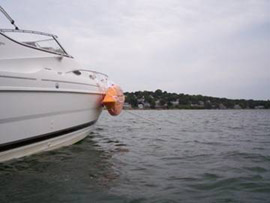 Dinghy sling used for carrying kayak on side of bow.Kayak secured in Dinghy Sling from bow rail and rests against rub rail. Even motoring through 3' waves did not move this.


Great for storing ski tube towables also

Dinghy sling securing a dinghy in the vertical position and with motor still on

Dinghy sling securing a dinghy in the horizontal position and with motor still on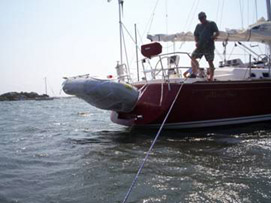 Side view of an inflatable boat secured in a Dinghy Sling on a large sailboat
Installation
Long loop straps with high strength acetal buckles sewn in connect the sling davit to rails or cleats on your larger vessel.

Dinghy Sling system comes with all specially designed adjustable straps so you can adjust your Dinghy to any height or angle you wish.

Connects to cleats, railings, or stations that already exist on your larger vessel.

Also comes with a storage sling bag when not in use.
Useage Information
The Davit Sling system is broadcast behind your boat and connected to cleats, railings or stanchions that already exist on your boat via specially designed loop straps.
With the sling system now floating in the water, the dinghy is motored or rowed over the sling and connected via security straps so your boat stays in place during boarding / unloading.
The dinghy is then adjusted to height on the swim platform or transom then pivoted up to an angle of your choice using high strength adjustable straps and military grade buckles that keep your dinghy in position and secure.
Once your Dinghy is secure it will resist moving or bouncing around even in rough seas.
This Davit Sling will not sink or wrap your props. All connecting straps are included.
There are several ways to use the Dinghy Sling but the 2 main ways are:
Secure the dinghy in the dinghy sling leaning up against the transom, railings, or similar part of the larger vessel.

Secure the dinghy on an outward angle leaning out over the water so the sheer weight of the dinghy keeps it from flopping.

Some people use the second method, but in very rough seas, they switch over to using the first method temporarily.

The Dinghy Sling is easily operated with only 1 person.

The Dinghy Sling is not a cargo net you buy in a store! This sling is specifically designed to stretch in the middle to conform and hold boat tightly. Sides of sling and straps are stretch resistant and very strong so as to hold the weight of the boat safely and securely.

This product will not sink like other marine sling products. It has built in floats to keep it afloat
Featured Products
$995.00 - $1,395.00
Was:
$2,988.00 - $5,783.00
Now:
$2,888.00 - $5,683.00
Specials
Was:
$1,249.00
Now:
$1,049.00