Description
Pictures
Testimonials
Features and Benefits:
Designed to make lifting and lowering the dinghy a one person job. Consisting of two high quality marine pulleys and 8mm cord the 4 to 1 lift assist greatly reduces the effort needed to hoist the dinghy into the vertical position, even with the motor attached. The cleat on the upper pulley prevents the rope from slipping and the dinghy falling back into the water. The davit system lift assist is designed for use with most pivot-up davit systems including our pivot-up davit systems.
Works great with these products:
Specifications:
4:1 Marine grade pulley's with locking cleat
8mm Polly rope
cast stainless transom mounting lug
4 lbs and 6" x 6" x 6" in approximate size
Requirements:
To be used with Pivot-up davit systems.
Additional rope for connecting the C-rings is required.
Davit System Lift Assist Pulley - designed for use with most pivot-up davit systems to easily raise and lower dinghies.
"The "kiss" approach to dingy mounting. "keep it simple stupid"....which is what you offer with the 6000 system."
David Eastwood, TWO SEAS, 32' Island Gypsy.
"I would be more than happy to tell you and others how pleased I am with your davit system. I searched the web and looked at a few systems but none can compare to yours. The picture you see here is of my boat on the St Lawrence River this past summer. While we were up there we stopped at a place called Bold Castle. We were just getting ready to leave when a fellow boater notice my dinghy and it's davit support. I had him come onboard and even try it for himself. He was very impressed with it and to the point where he wanted to give me his phone number so that when I got home I could call him with your website. Lucky for him I keep all my paper work for the boat on the boat. I was able to give him all the information he needed to contact you. I can only believe he did along with a few of his boating pals. I will be contacting you because I need to purchase the standoffs for the dinghy. You really need to advertise more on the East Coast. I think your Davit System would be a big seller here. It's only a matter of time until I move up to a larger boat and I will be in need of another one of your davits. I'll be sure to call."
Thanks again Paul A. Batz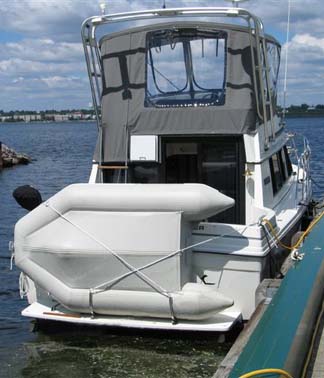 Featured Products
Was:
$995.00 - $1,195.00
Now:
$895.00 - $1,095.00
Was:
$899.00 - $1,199.00
Now:
$799.00 - $1,099.00
Specials