Description
Testimonials
Model 5000-A Adjustable Seat
Adjustable-width seat designed for inflatable boats.
Adjustable in 1" increments from 26" to 37" (inside width between the tubes).
For all inflatable and rigid hull inflatable boats up to 37" inside width or approximately 15' in overall length.
Seat is 10" wide for a comfortable ride.
Aluminum construction.
Electrostatic powder coated in white color.
Seat fits firmly between tubes and can be positioned anywhere in boat.
For rowing, for operation of motor, or for passengers to sit wherever they please.
Easy to mount fishing seats with back and arm rests on top of it.
Shipping weight 15 lbs. Box size 30" x 10" x 6".
No returns on blowout priced products.
Please measure you boat prior to ordering.
"The seat has worked out better than expected. I added a pair of cushioned folding seats (similar to those in a bass boat). It's far more comfortable than my friend's with factory installed seating and certainly less expensive."
C. Douglas Johnson
Picture: Model 5000-A adjustable seat with 2 cushioned fold-down seats mounted on it.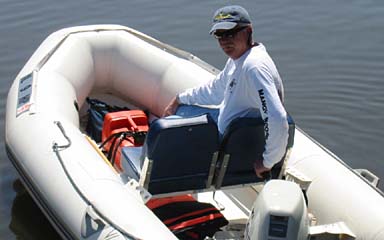 Specials